Genius brought out the Genius ColorPage Vivid 4x and the last driver is listed below for the USB scanner. Note the Hardware ID listed below as you note that this driver is for the Vivid4x. Always scan files downloaded from the internet for malware and viruses before you install the driver. There is a Malware scanner listed on this website which you can use.
Genius ColorPage Vivid 4X
You will note that this is a very old driver for the scanner. The file below you can download and then extract the file inside. You will then need to extract the file. There is only one file which is an EXE file. Click on this file and the driver will install
on your computer. If you are using a newer operating system you will need to extract the file as above. See also the Genius ColorPage Vivid 4 and Genius ColorPage HR6 Driver.
Then you will need to right-click on the EXE file and then on the new menu. You will then need to click on the new menu option and click on "troubleshoot compatibility" and Windows will then install the driver in compatibility mode. If this does not work then there is another option which you can use to install this older driver on a newer operating system.
You can also extract the EXE file with winzip or 7zip. Extract the content inside the EXE file and then again. Right-click on the INF file inside the EXE file. This is the INF file called "916U.inf" which you will find it there. See also the Genius eye 312 driver as well as the umax usc 5800 scanner driver.
These are the ID's for the USB scanner driver in the file:
ProvName="Genius"
IPCProduct="ColorPage-Vivid 4X"
ServiceName="ColorPage-Vivid 4X"
TwainDSName="ColorPage-Vivid 4X"
RunOnce="Software\Microsoft\windows\CurrentVersion\RunOnce"
InfInfo="Software\USBSCAN INFO\Inf_Info"
RK_WIA="Software\Scanner Information\KYEUSB\Wia"
FN_MicroDriver="micdrv.dll"
System: Windows XP,Windows 2000 SP1,Windows NT SP2,Windows NT SP4,Windows 2000,DOS,Windows 95,Windows 2000 SP4,Windows Vista,Windows NT SP1,Windows 98 SE,Windows 2000 SP3,Windows NT
NOTE: There is no Windows 7 64 bit driver for this scanner.
Note: There is no Windows 7 driver for this hardware. This was the last driver for this hardware as it is very old and was never updated again. What you could try is running the driver in compatibility mode.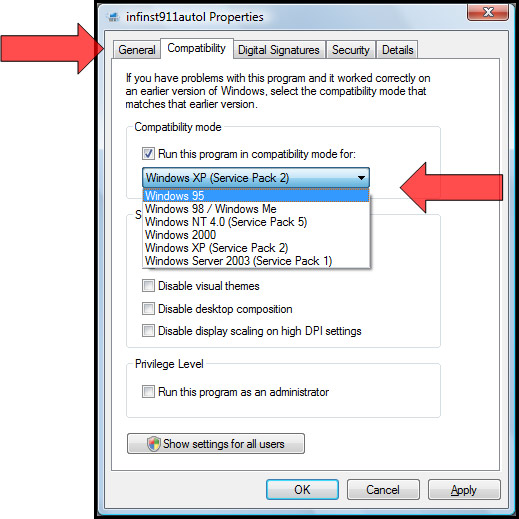 1. Place the driver installation file on the Desktop.
2. Right Click the driver installation file and select Properties/Compatibility Tab.
3. Select Windows XP for compatibility mode.
4. Click Apply
5. Right Click the file and select the Run As Administrator option to install.

Incoming Search Terms: