See the FA506IC ASUS network driver for your ASUS TUF gaming driver. This is the latest driver which was released in December 2021. This is a Windows 10 driver and it is a 64bit driver. You can download the driver below and open the zip file and click on the .exe file inside. This will install the FA506IC ASUS network driver on your computer. This is driver version 3.00.01.1100 which was released in December 2021.
FA506IC ASUS Network Driver
You simply have to download the FA506IC driver below. Open the zip file and then click on the file inside. Click on this file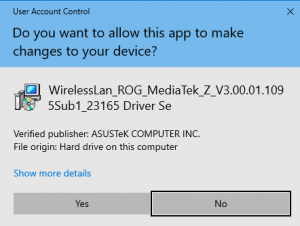 and you will then install the driver. This is a silent install and does not require any input from you as a user. If there is an error during the install process then you will need to uninstall the current driver. Then restart your computer and install the driver again.
Windows will install a driver over an older driver. It will normally ask if you want to install over the other driver. If you are having error messages because there is driver corruption. Then uninstall the driver and install the new driver.
If you want to see what driver you have then right-click on the Windows button. The Windows button is at the bottom left corner of your screen. Now click on device manager in the new menu. You will see the network adapter tab and click on that to see what device you have. Now right-click on the device and see what driver version you have. This is driver version 3.00.01.1100 which was release in December 2021. Do not confuse the FA506QR with the FA506QM or the FA506IC router.
See the driver below and download and install the ASUS MediaTek FA506IC network card or WLAN below. Install the driver below is very easy and you should have no problems. See the rest of the website for other drivers from ROG and other devices. There ar eother drivers as well such as the ft232r usb uart and the Prolific USB to Serial driver on this website.